Welcome to our first post of the official Girl Scouts of Northern California blog! Today is a great day to debut our new blog, because it just happens to be the 5 year anniversary of the formation of Girl Scouts of Northern California!
If you want to keep up with all things GSNorCal, subscribe to this blog! You can also access it through our website, and you can share it with friends through your own social media! Feel free to leave your comments below (keep in mind that this is a public blog that minors can access, and we will remove inappropriate comments that are not consistent with values in the Girl Scout Law).
Oakland Office staff give a High Five for our 5th to all our volunteers

!
But back to our anniversary! In October 2007, we participated in a national Girl Scout movement to create high-capacity councils across the United States. Through this "realignment," the Konocti Girl Scout Council, Girl Scouts of Napa-Solano, Girl Scouts of San Francisco Bay Area, Girl Scouts of Santa Clara County, Girl Scouts of Sierra Cascade, and a portion of Girl Scouts of Winema Council became Girl Scouts of Northern California.
San Jose staff keeping the Promise!
Thank you to all the volunteers who have made this all possible! In five short years, we've accomplished so much as part of this large and vibrant council, and our CEO, Marina Park, highlighted some of our greatest accomplishments today in her Member Update below. Read on!
Dear Members and Friends of Girl Scouts,


Congratulations! Today is the 5th anniversary of Girl Scouts of Northern California! Thank you to each of you for helping us build the council we have become. We have a lot to be proud of.

Five years ago, we had five separate websites, email systems, phone systems, volunteer management systems, two cookie bakers, no online registration (for membership, program, camp, property reservations), no online training, no online shop, and none of us had heard of Journeys or Girl's Guides!

Fast forward to today:


Volunteers. We have more adult volunteers than any othe
r Girl Scout council in the U.S.

Girls. We grew total girl members, volunteer led troops, and Daisy girl members during 2012 – we now have over 49,000 girl members – with almost 41,000 girls participating through 4,100 volunteer led troops, and growing representation from all of the communities we serve.


Cookies. We've had 5 years in a row of record cookie sales – essential support during this challenging economy.


Program. During 2012, over 55,000 participants enjoyed GSNorCal programs, including 22,000 who attended One Hundred, Fun Hundred. Got Choices serves 660 at-risk girls in 5 counties, helping them build skills to make healthy choices, and our Girls Go Tech and Green By Nature programs-in-a-box reach girls throughout Northern California.


Camp. We've focused on camp, and this past summer a record number of girls – 11,669
– attended council-run and volunteer-run camps. This represents an almost 50 percent increase in the number of girls and families attending council-run camps, up from 2,991 during the 2008 summer to 4,424 girls and family members in 2012!

Technology. We've invested and built an IT infrastructure that ties together all our offices and field locations and ensures data and privacy protection for members.


Online. 80% of GSNorCal members are now registering online for GSUSA membership. And it's hard for any of us to imagine life without online program and camp registration and property reservations. We've invested in online training and are adding more online training modules each year. Our online shop is our third largest shop in terms of sales. And online newsletters, like Monday Mailing, keep members in all areas of the council up to date on news and events.


Fundraising. We've raised funds from foundations, corporations, and individuals to support delivery of Girl Scout programs to over 7,000 girls in underserved communities each year and to help us organize and support troops in these communities.


Celebration! Volunteers, girls, and staff from all areas of our council worked together to create One Hundred, Fun Hundred – an incredible celebration of Girl Scouts that made all of us proud to be part of Girl Scouts of Northern California.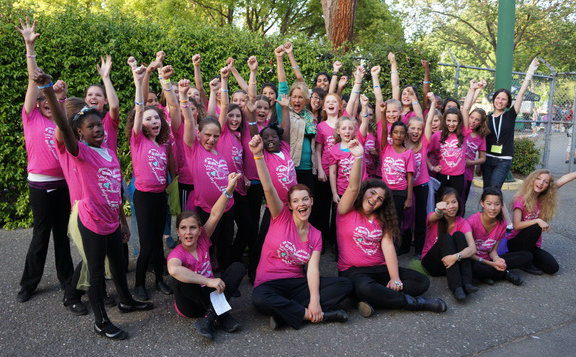 It's taken a lot of work by all of us to get our council through our first five years. There is still much work to be done, but today's a day for celebration and appreciation!

Thank you for all that you each have done to help build Girl Scouts of Northern California.

Yours in Girl Scouting,



Marina H. Park, CEO
Girl Scouts of Northern California